Scrambled Eggs with Matcha and Lime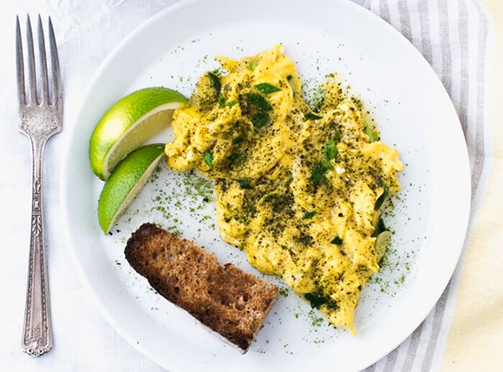 By: A Couple Cooks
Featuring a subtle aromatic flavor from the Matcha and tanginess from the lime, this scrambled egg recipe is perfect for breakfast or brunch.
Scrambled Eggs with Matcha and Lime
INGREDIENTS
• 8 eggs
• 2 green onions
• ½ tsp salt
• 2 tsp butter
• ¼ -½ tsp Aiya Culinary Grade Matcha
• 1 lime
DIRECTIONS
1. Thinly slice 2 green onions.
2. In a medium bowl, crack 8 eggs and whisk them together until well-beaten. Stir in ½ tsp salt and plenty of fresh ground pepper.
3. In a skillet, heat 2 Tbsp butter over medium heat. Tilt the pan to ensure the entire pan is coated in the melted butter. Add the green onion and saute for about 1 minute to soften slightly. Pour in the eggs.
4. Keep the heat on medium. When the eggs just start to set, use a flat spatula to slowly scrape sections of eggs, creating folds. Scrape occasionally until the eggs form soft folds, and remove them from the heat just before they are fully hardened.
5. To serve, place eggs on a plate. Garnish with sprinkles of Matcha and squeezes of lime juice.
TIPS:
SHOP THE POST
To learn more about the Matcha used in this recipe, click on one of the product links below.