Matcha Cranberry Scones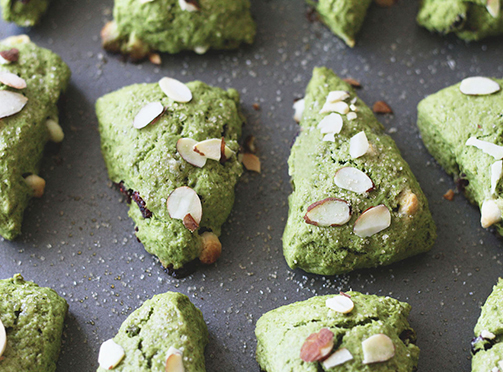 By: Aiya Matcha
These Matcha Cranberry Scones are full of sweet surprises, like dried cranberries, white chocolate chips, and almonds.
SERVINGS:
Enough to share
INGREDIENTS
Matcha Scones
• 2 cups flour
• 2 Tbsp Aiya Culinary Grade Matcha
• 2 ½ tsp baking powder
• ½ tsp salt
• ⅓ cup sugar
• ½ cup butter, cold and cubed
• 3 tsp vanilla extract
• 1 egg
• ½ cup cashew milk (sub any type of milk)
• ½ cup dried cranberries
• ½ cup white chocolate chips
• Sliced almonds and sanding sugar, to top
Glaze (optional)
• 1 cup powdered sugar
• 1 - 3 tsp cashew milk (sub any type of milk)
• ½ tsp vanilla extract
DIRECTIONS
1. Preheat oven to 400°F.
2. Sift and whisk the dry ingredients together.
3. Add the cold and cubed butter to the dry ingredients and cut with a pastry cutter (or two knives) until crumbly.
4. Whisk the wet ingredients together.
5. Add the wet ingredients to the dry ingredients, along with the dried cranberries and white chocolate, until a soft dough forms.
6. Divide the dough in half. Flatten each chunk until the dough is about ¾
7. Cut the dough into 8 wedges and place on a greased baking sheet, flattening the sides as necessary.
8. Dab the wedges with cashew milk and top with sanding sugar and sliced almonds.
9. Bake for 12-15 minutes, or until the edges are golden brown.
10. For the glaze, mix the powdered sugar, cashew milk, and vanilla extract until smooth.
11. Top the scones with glaze as desired and enjoy!
TIPS:
SHOP THE POST
To learn more about the Matcha used in this recipe, click on one of the product links below.