Dairy-Free Matcha Pudding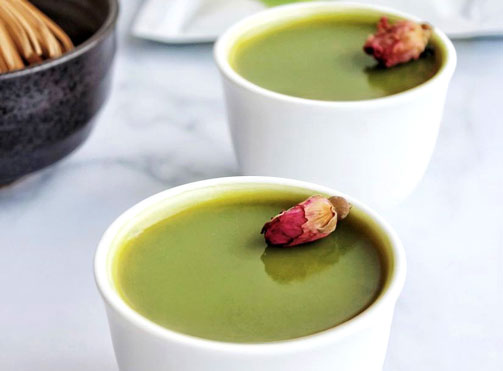 By: Jen's Food Lab
These Matcha Pudding cups are the perfect dessert or snack when you are craving a little Matcha fix. Get creative and substitute in your favorite plant milk.
Dairy-Free Matcha Pudding
INGREDIENTS
• 2 Tbsp hot water
• 5g unflavored gelatin powder
• 1½ Tbsp Aiya Culinary Grade Matcha
• 1¼ cup oat milk
• ¼ cup (50g) sugar
DIRECTIONS
1. First, in a small bowl, add the hot water. Then, sprinkle the gelatin powder over the water and let sit for 5 minutes. Stir to make sure the gelatin dissolves all the way. Feel free to heat up the mixture to help the gelatin dissolve.
2. In another bowl, add ¼ cup of oat milk and microwave until warm. Add Matcha powder. Use a milk frother or a Matcha whisk to mix to combine.
3. In a saucepan, add the Matcha mixture, the rest of the oat milk, and sugar. Heat on medium heat and stir until everything is evenly mixed.
4. Add gelatin mixture and stir to combine. Take the mixture off the heat and pour into cups or ramekins.
5. Refrigerate for at least 4 hours or overnight and you're done!
TIPS:
SHOP THE POST
To learn more about the Matcha used in this recipe, click on one of the product links below.